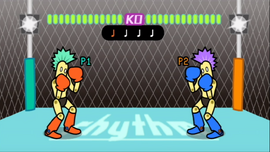 Rhythm Fighter
is an unlockable
Rhythm Toy
in
Rhythm Heaven Fever
that is unlocked after obtaining 21
Medals
. This toy is intended to be played by two players.
Description
Rhythm Fighter has two doll-like figures standing in an arena fighting. The floor is blue with text that reads "rhythm." P1 has orange gloves and shoes with light blue hair. P2 has blue gloves and boots with purple hair. A health bar is at the top of the screen, with 13 green segments. 
Gameplay
The game is divided into numerous rounds. During each round, a rhythm of beats flashes on the screen. One player, the attacker, creates an attack rhythm of punches and kicks using the beats. The other player, the defender, must then repeat the same rhythm to dodge the attacks. If the defender dodges at the wrong time, he will be briefly stunned and any attacks during this time will automatically succeed. Successful attacks deplete the defender's life bar and when a player is hit 13 times, he is KO'd and loses the game. The roles of attacker and defender switch between players often, and the speed and rhythm change with every new round.
Controls
Attacker:
Defender:
A: Dodge Punch
A+B: Dodge Kick
Rounds
Round
Rhythm
Description
1
♩ ♩ ♩ ♩
4 slow beats
2
♩ ♩ ♩ ♩ ♩ ♩ ♩ ♩
8 slow beats
3
♪ ♪ ♪ ♪ ♪ ♪ ♪ ♪
8 fast beats
4
♪ ♪ ♪ ♪ ♪ ♪ ♪ ♪ ♪ ♪ ♪ ♪ ♪ ♪ ♪ ♪
16 fast beats
5
♩ ♩ ♩ ♩ ♩ ♩ ♩ ♩ ♩ ♩ ♩ ♩
12 slow beats
6
♩ ♩ ♩ ♩ ♩ ♩ ♩ ♩ ♩ ♩ ♩ ♩
12 slow beats (slightly faster than Round 5)
7
♪ ♪ ♪ ♪ ♪ ♪ ♪ ♪ ♪ ♪ ♪ ♪ ♪ ♪ ♪ ♪
16 fast beats (slightly faster than Round 4)
8
♩ ♩ ♩ ♩ ♩ ♩ ♩ ♩ ♩ ♩ ♩ ♩
12 slow beats (slightly faster than Round 6)
9
♪ ♪ ♪ ♪ ♪ ♪ ♪ ♪ ♪ ♪ ♪ ♪ ♪ ♪ ♪ ♪
16 fast beats (slightly faster than Round 7)
10
♪ ♪ ♪ ♪ ♪ ♪ ♪ ♪ ♪ ♪ ♪ ♪ ♪ ♪ ♪ ♪
16 fast beats (slightly faster than Round 9)
11
♪ ♪ ♪ ♪ ♪ ♪ ♪ ♪ ♪ ♪ ♪ ♪ ♪ ♪ ♪ ♪ ♪ ♪ ♪ ♪ ♪ ♪ ♪ ♪
24 fast beats
12+
♪ ♪ ♪ ♪ ♪ ♪ ♪ ♪ ♪ ♪ ♪ ♪ ♪ ♪ ♪ ♪ ♪ ♪ ♪ ♪ ♪ ♪ ♪ ♪
24 fast beats-The game continues infinitely with this

rhythm until one player is KO'd, with each consecutive

round speeding up or slowing down slightly
In Other Languages
| Language | Name |
| --- | --- |
| Japanese | |
| French | |
| Spanish | |
| German | Rhythmus-Duell |
| Italian | Scontro di ritmi |
| Korean | |