This is a page of all lesser known characters in Rhythm Heaven Fever.
A Boy and His Crush
Ann Glerr
Assistant
Baxter

Baxter is a dog that that appears as a playable character in
Air Rally
. Just like
Forthington
, he enjoys playing rally in the sky. Unlike Forthington however, he prefers healthier food such as vegetables. Baxter has yet to make another appearance in the series besides
Rhythm Heaven Fever
.
Bossa and Nova
Captain Tuck
Dough Dudes
Employee #333-4-591032
Flippers
Fork
Forthington
Golfer
Huebirds of Happiness
Love Posse
Mandrill
MC Adore
Microbe
The Monkey is the leader in Tambourine. It plays the tambourine as the player must repeat them.
Monkey Watch
In Monkey Watch, there are dozens of monkeys. The player, a monkey as well, rides the watch's clock hand and "high fives" the other monkeys as the player passes by them. There is a "punk monkey" that will be followed every few monkeys, which high five off-beat.
Remix 2
In the sections of Board Meeting, instead of a woman assistant there is a small female monkey wearing glasses and a small pink dress. Instead of saying "One, two, three!" the monkey says "Oo-ookii!".
Exhibition Match
Before the last ball is thrown in Exhibition Match, The curtain in the middle of the arena rises to reveal a monkey, who is catching the pitcher's baseballs and dropping the to Slugger.
Monkeys
Mr. Upbeat
Mr. Upbeat is a character from Rhythm Tengoku but this was the remake in Mr. Upbeat.
Muscle Doll
TBA
Pitcher
TBA
Quicknibble, Pausegill and threefish
TBA
Reporter
The Reporter is a young girl who interviews the player (as the Wrestler) in the minigame Ringside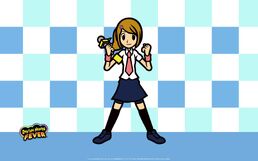 She gives two of the three cues for the player to respond to. The cues she gives are "Wubbadubbadubba is that true?" and "Whoa, you go big guy!" 
Rhythm Rockets
Screw Bots
See & Saw
School Library Pep Squad
Slugger
Small Monkeys
Tall Tappers
The Executives
The Shrimp Scamperers
These guys...?
Treat Spider
Weasel Couple
Wrestler
Widget