"Keep your rhythm up!"
— Marshal - Rhythm Heaven Fever

Marshal (Japanese: マッシュ Marsh) known as Matt in the PAL region, is one of the first three characters that appeared in Rhythm Heaven Fever. His main role is greeting players in the beginning of the game and explaining the rules of Rhythm Heaven Fever. His design is very similar to Play-Yan from Night Walk, as well as the Chorus Kids from Glee Club. This could suggest that they are part of the same race.
Overview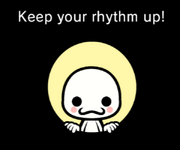 Marshal, along with Miss Ribbon and Cam, appears when starting a new game or entering the Rhythm Test. He and Miss Ribbon will also explain some information about the game, such as controls and the player's rhythm test results. He also appears in Night Walk, where you play as him in the credits for Rhythm Heaven Fever.
Appearances
Trivia
According to a Japanese database, the source of his name is that he looks like a marshmallow.
Gallery
See also
Ad blocker interference detected!
Wikia is a free-to-use site that makes money from advertising. We have a modified experience for viewers using ad blockers

Wikia is not accessible if you've made further modifications. Remove the custom ad blocker rule(s) and the page will load as expected.